The primary objective of the Defensive team is to score points, but at a minimum set up a score. It is not enough to stop or hold opponents; pressure them mentally and physically with speed and relentless play. This will lead to a physical dominance that will lead to take-aways. It is then that a defense begins to rally and score. As such, defensive football is all about discipline, both in physical and mental preparation.
What are you going to force the offense to do – run or pass?
Are you going to stop the run? Most defenses are designed to stop the run, always with a gap-controlled approach; i.e., at least one defender assigned to each of the seven run gaps. The alignment of the defensive personnel will provide additional definition to this gap-control, either in the form of pressure or "bend but don't break". This later approach is designed to stop the long run or pass first. This decision becomes the cornerstone of your defensive philosophy.
What is your risk factor?
There are some inherent risks in defensive football because the defense is forced to cover down all potential receivers, while maintaining a sound front (scheme) to control the run gaps as well as cover the nine pass zones. As a coach, you must decide how to deploy your personnel. There are three constants though:
1. Defense is a team effort – each member must do his job because if one member goes off on his own, the entire defense fails.
2. Defense is pursuit – execute the primary assignment, pursuit and play football.
3. Defense is hitting – emphasize daily; gain a reputation for physical play.
This defense is designed to attack the offense and make things happen on their side of the line. The offense will NOT RUN the football and will be forced into pass situations. While there are some schemes that create a six-man box from tackle to tight end, this defense puts six defenders in the tackle-to-tackle box. The scheme will prevent the long run or pass with team play and great pursuit. This attacking approach will allow players to read their keys, execute techniques and run to the ball with violence on the mind. This relentless play will frustrate opponents and lead to turnovers, either fumbles or interceptions. When his happens, the defense will rally to the ball and score.
The critical components to success include:
• Discipline – perform as coached
• Alignment – key to success
• Stance – the ability to perform assignments begins with the stance
• Key – gives you the quickest read to perform your assignment
• Tackle – most important, overemphasize the "club-up" and wrap
Discipline – means that athletes will do it the way they have been coached. They must be prepared both physically and mentally because this will give a team the strength to overcome adversity. Physical preparation for a season requires an incredible amount of discipline because the athletes are training nine months to play three. This takes a special person to understand the short-term efforts have long-term benefits. Also, a well-conditioned athlete is less likely to make mental mistakes. You cannot have mental mistakes. One mental mistake by one player can mean a touchdown or as in most cases, keep a drive going that results in a touchdown.
Alignment – means that the players know how to align and adjust, if necessary, to the offensive formations. This will help them eliminate all wasted movement, allowing them to play with speed. The 30 Stack is designed to defend virtually any offensive formation with a minimum of movement or adjustments. This will allow for a better recognition of offensive schemes, provide a maximum of repetitions so that assignments and techniques will be automatic.
Stance – each player must know their stance for their position. These must be drilled daily because the stance is the foundation for performance. The stance must be perfected in order for the player to execute great technique. The players must be able to defeat-the-block.
Keys – players must know their keys on every play and concentrate on them. This is the only way that they will be able to read their keys, understand the type of play that is developing. When players understand their keys, they make plays or get into pursuit. Always talk quickness to the football, because quickness is of utmost importance.
Tackling – regardless of scheme, if you do not tackle, defense is pointless. When players are prepared, and conditioned to perform, they can execute their assignments, run to the ball and tackle. Proper tackling technique, as well as players arriving after the first hit, will create turnovers. When turnovers occur, the players must rally to score, because all eleven players should be in the proximity of the ball carrier.
SCHEME
A defense must be designed to control the seven (7) run gaps and cover the nine (9) pass zones, (see chart below). The scheme design must build off of a simple communication process to get your players properly aligned. Your players must know where to align and what technique(s) to use.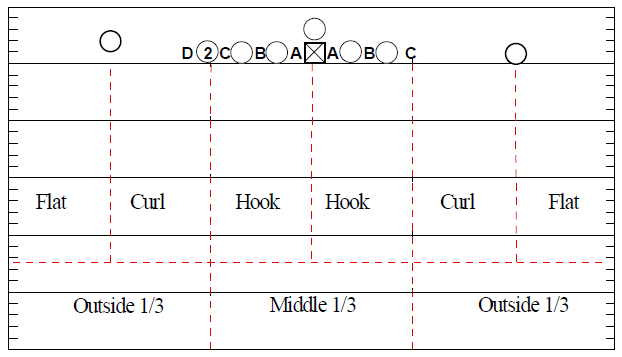 The 30 Stack is designed to stop the run. The scheme is built off of the "30 Front", which includes two ends and a nose. It is an 8-man front, in its base form, and includes a 6-man tackle-to-tackle box. This is an excellent scheme versus two-back offenses, and very simple to adjust to multi-formation offenses. This front will take away the cutback and forces the ball to the perimeter, which allows the edge defenders to run to the ball. The scheme has unlimited approaches to pressure the quarterback and stop underneath throws on early downs. It has simple cover down responsibilities against a variety of formations. The coverage package is built off of 3-deep or man-free, but is easily adaptable to robber, rolls and 2-deep packages.
This scheme accommodates "stemming" and / or "disguises" to the base. The base defense is very adaptable to a quick stem to a different look as the quarterback begins his cadence. Also, movements by the linebackers (second level defenders) and defensive backs (secondary) up and back, or side to side will create some questions in the offense's mind as to where the defenders will be at the snap of the ball.
PLAN

It is not enough to have a great philosophy and scheme. The key to a winning program is executing the plan. Execution requires organization, mastering the basics and work ethic. Organization will help prepare your team. The off-season is a terrific time to prepare because you can go through all of the components, in the smallest of detail to assure that you will not miss anything. These details include teaching progressions and techniques. If you feel inadequate in certain areas, you can find the resources to strengthen your knowledge and teaching abilities. The game is still based upon blocking and tackling. You must teach these skills and all of their nuances everyday, with variety and enthusiasm. Finally, do not let your opponent out work you or your players. If you set the example, your players will follow. Show them your passion for the game!
Does you philosophy and scheme work in the worst-case scenario?
You must ask yourself, can I out coach or maneuver my opponent every week to guarantee success? That is an awful lot of pressure! Technology has allowed coaches to gather, categorize and analyze defensive tendencies. Therefore, as you develop your plan, make sure that your scheme will work in the worst-case scenario. Does your base defense stop your opponent's five favorite runs and passes? How does your goal line defense match-up with your opponent's favorite goal line or two-point plays? Can you adjust to changing game situations with stunts or blitzes?
Do you have a systematic way to communicate your philosophy, teach your scheme and install the plan?
Strategies and tactics may change from game-to-game, and certainly season-to-season, however the ability to teach is the most important characteristic a coach can have. Your scheme will come crashing down if your second and third team players cannot execute the proper fundamental techniques. Therefore, only add when your players have demonstrated an ability to execute what is in. The speed at which your players will comprehend and execute is directly related to your organization. Make sure that you have developed a systematic way to develop your players. The approach should include teaching in the classroom, coaching on the field and correcting with film.
THE 30 STACK PLAN
Develop your players, both physically and mentally. Defensive players must be warriors; reacting, running and hitting. They can do this with confidence when your approach is to "teach in the classroom, coach on the field and let them play Friday night".
Defenses must be good on first down and great on third down. Therefore, the first objective is to control the opponent's running game. When successful, this forces them into long-yardage situations. A high risk, low percentage situation is a defensive advantage down, which puts the defense in control, and can lead to a take-away. The "30 Stack" scheme allows the defense to determine where they want to align, not the offense dictating. This keeps the defense in advantageous match-ups.
Regardless of the scheme, you must be able to tackle. As such, the plan is:
• Pursuit
• Tackle
• Take-aways
Pursuit
Team pursuit is a burning desire to have all eleven players to the football. You can evaluate team pursuit by freezing a video frame and counting the number of players around the football on any given play. You cannot be a turnover-producing defense without great team pursuit. Also, pursuit will force the opponent to go the distance in order to score. Develop a reputation of punishing gang tackling from the front and backside by demanding team pursuit. The point is four 160 pound players hitting a running back is the equivalent of a 640 pound collision.
Tackle
A tackle is a desired collision between the defensive man and the ball carrier. The defensive man must win – end up on top with the ball carrier, making him go backwards! Tackling is 50% determination and 50% technique. It takes both aggressiveness and good technique to be a great tackler. Also, all defensive players must work for the assist (with pursuit) because it is just as important as the tackle. The second, third and fourth players to the ball carrier can deliver punishing blows, which can free the football. If the defensive players out-number the offensive players you have a good chance of coming up with the football. Again, four 160 pound players hitting a running back is the equivalent of a 640 pound collision.
Take-aways
Take-aways will allow your team to play for 48 minutes, because in a game of momentum, like a pendulum, it will always come back and a take-away is a great start. The defense must take the ball from your opponent's offense. This has a demoralizing effect on them, as well as giving the defense a chance to score, but at a minimum providing the offense with field position.
Since the 30 Stack Defense is designed to stop the run, and force everything east and west, the first tackler, and subsequent defenders running to the ball have the opportunity to create a take-away, scoop and score. Also, opponents will be forced into defensive advantage downs, which put them in throwing situations. This is when the 30 Stack Defense's attack packages can pressure the quarterback causing a fumble in the pocket, or hurrying a throw that creates an interception. Coverage personnel must "break" on thrown balls at 100%. Finally, a stop on 4th down is a take-away, because it creates field position and has a demoralizing effect on our opponents.
About the Author of this post:
Jerry Campbell has over 30 years of high school and college coaching experience. He has experience as a head coach, offensive coordinator, and various position coaches. He has written numerous football coaching articles in various publications, is the author of over 30 books on coaching football, and has produced 12 coaching video series. Additionally, he is a nationally sought after speaker on the coaching clinic circuit.