Adam Gaylor
Defensive Coordinator
Broken Arrow High School
3rd Down Game Plan
MUST BE GREAT ON 1ST AND 2ND DOWN IN ORDER TO GET TO 3RD DOWN.
TALK ABOUT 3RD DOWN AS A STAFF (IDEAS).
3RD DOWN COACH
EMPHASIZE 3RD DOWN TO PLAYERS.
WHERE IS THE "CUT"?
FAVORITE PLAYS BY 3RD & 1-3, 4-6, 7-10, AND 11+
MATCH CALLS WITH TENDENCIES.
PLAYERS MUST BE AWARE OF THE "STICKS".
WHO ARE THEIR PLAYMAKERS?
HOW CAN WE ATTACK PROTECTIONS? CENTER/RB
DO THEY THROW HOT?
WHAT WILL BE THEIR ANSWERS TO OUR PRESSURES?
3RD AND LONG: FRONTS
Tough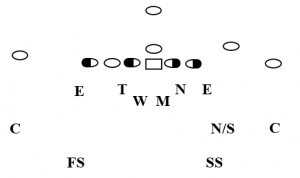 1.Interior defensive linemen go to  3 techniques and Ends are either in a Loose 5 or a Loose 9 technique for passing situations. Best Pass Rush Front.
2.Can 'Mug' Mike and Will in the 'A' Gaps.
3.Used vs. 20, 11, and 10 Personnel.
4.'Field/Strong' alignment rules.
5.Used Primarily used on 3rd and 6 +
Falcon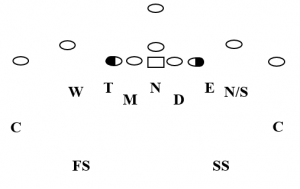 1.DOLLAR PERSONNEL:    Substituted Defense – Can sub extra DB or Best Pass Rusher—3-4 Front.
2.Threat of edge pressure—Balanced front…
3.Automatic 'Show' call.
4.Best Pressure Front.
3rd and Long Stunts
Pass Rush Stunts
'NATO' (TOUGH)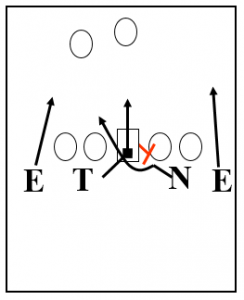 1.Both 3 Tech. and Nose read the Center.
2.DT away from sliding Center will ricochet, then work upfield.
3.DT to the sliding C will wrap around.
'TEX' (DBL.)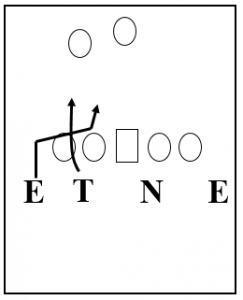 1.3 TECH IS PENETRATOR AND END IS WRAPPER.
2.END AND 3 TECH WORK UPFIELD 1ST.
3.3 TECH LOOK TO 'RICOCHET' OT.
4.END 'TAG OFF' BEFORE YOU WRAP.                        GET 'EYE TO EYE'.
5.LIKE IT TO RB SIDE.
3rd and Long Tampa
Why Tampa 2?
PERSONNEL
–2ND/3RD AND LONG CALL
–CHANGE UP
–ELIMINATE #1
–HARD CORNER
Tampa 2 Strengths
CHANGE UP TO ¼'S AND BLITZ 3
FLAT PASSING GAME
TAKES PRESSURE OFF CORNER
Tampa 2 Weaknesses
RUN GAME
üQUICK SLANTS VS. OUTSIDE LEVERAGE.
VERTICAL HOLES ALONG SIDELINE. VOID= 22 YDS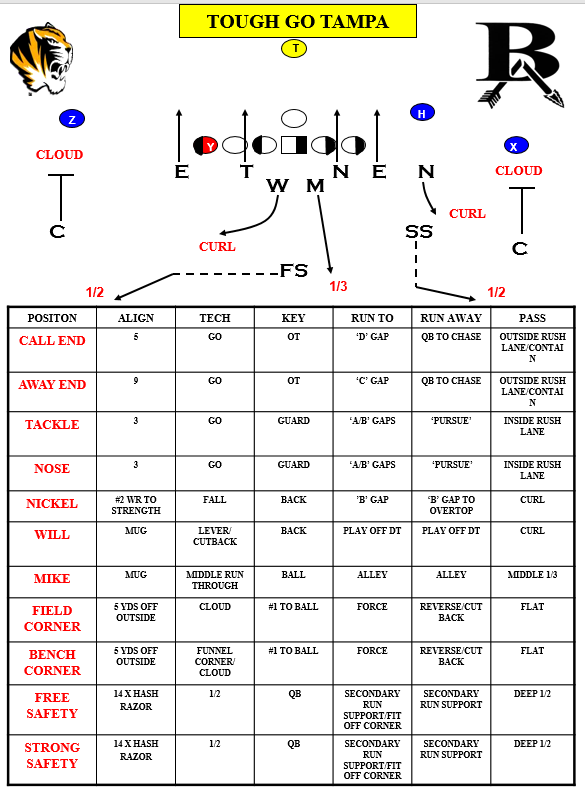 3rd and Long: Tough Pressures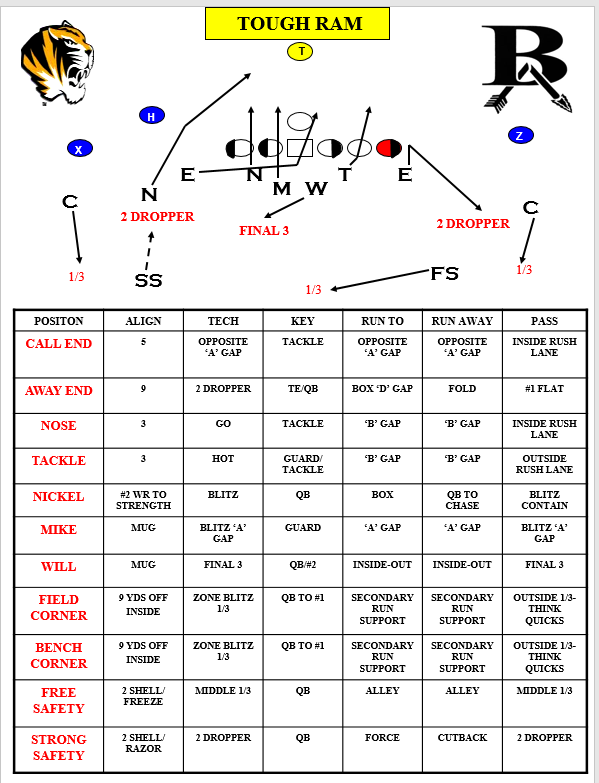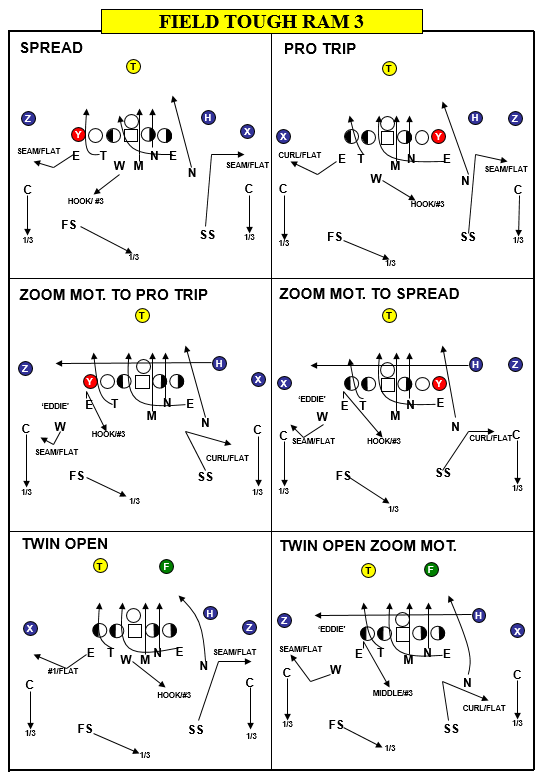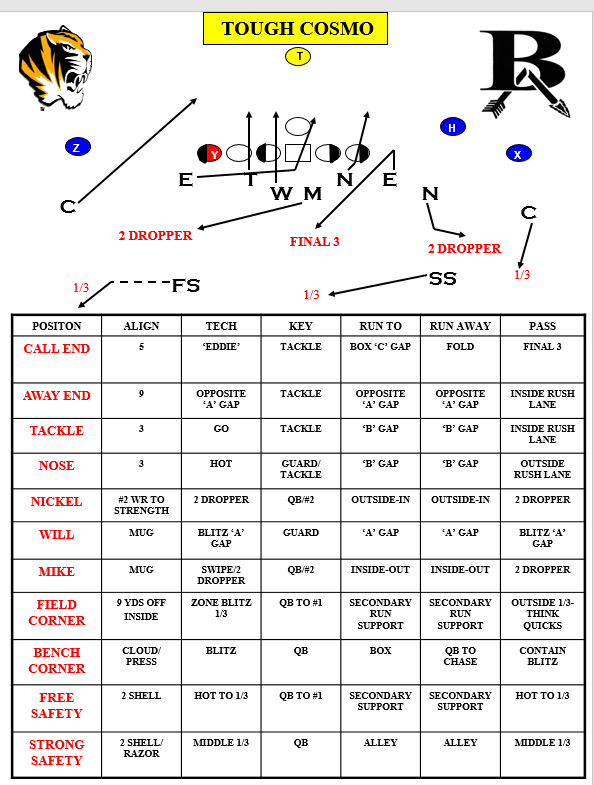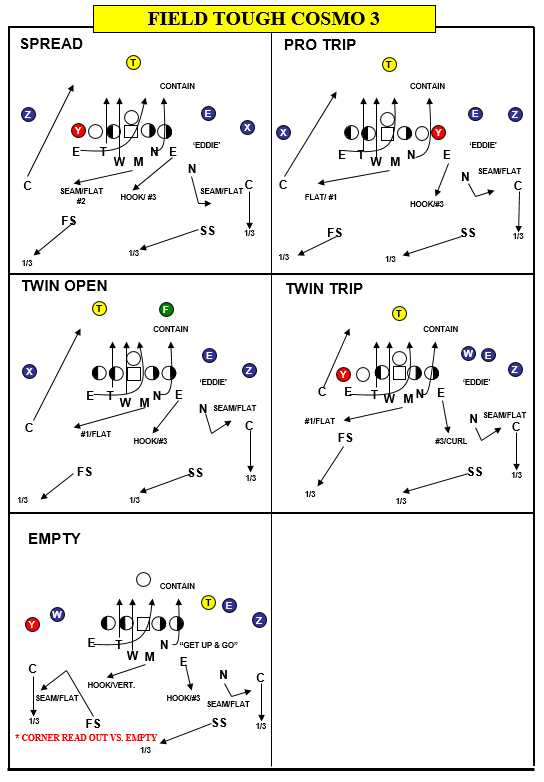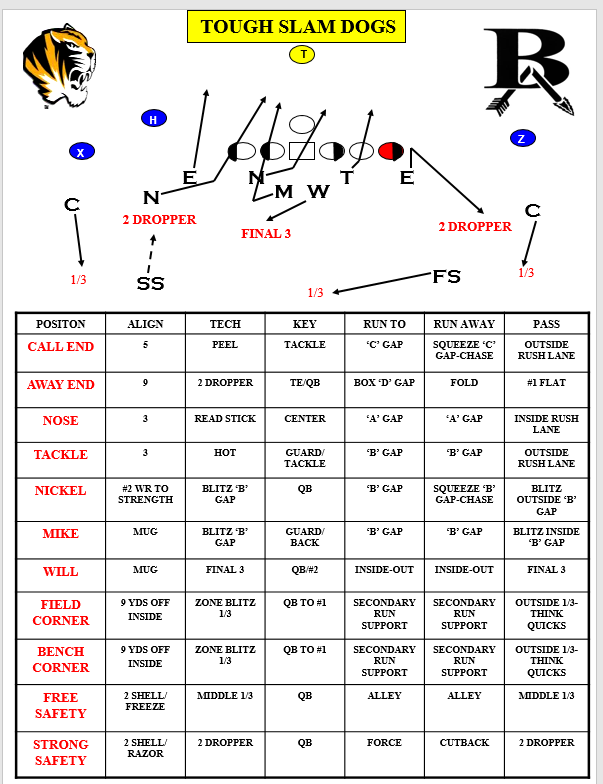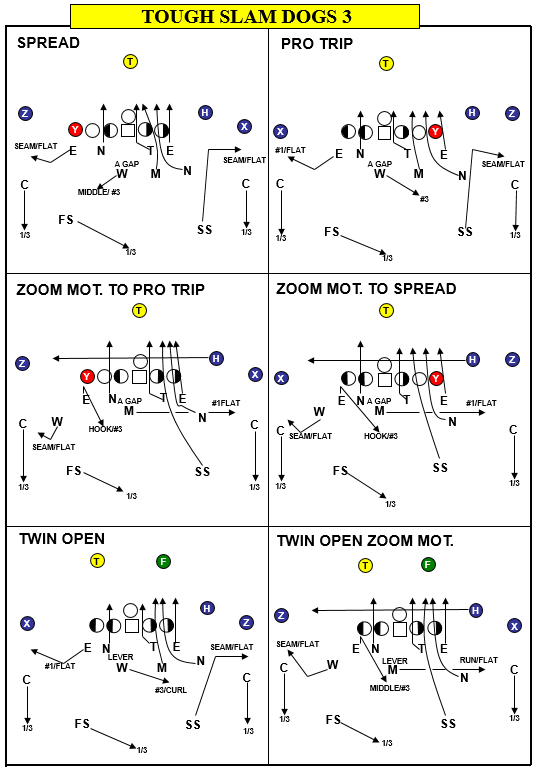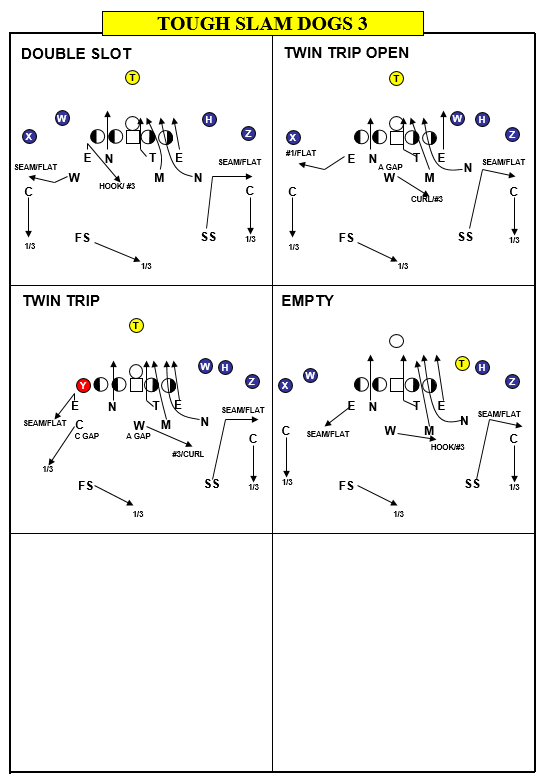 3rd and Long: Falcon