This is part 1 of this article.   There is a link below to Part 2.
Many football coaches neglect to teach and take full advantage of every phase of defensive line play.  A team should never de-emphasize its defense in favor of its offense, for a strong defense, if fully capitalized on, can be the determining factor in winning football games. It is with this in mind that we have assembled the following defensive line play principles which we believe will lead to football victories. One thing should be noted, however-for success to result from these principles, it is essential that they be followed in exact order as given.
1. Move on the Ball or on the Movement of the Opposing Ball Player.
Some players can view both the movement of the ball and the opponent across the line of scrimmage simultaneously-this is known as "split vision." these players should watch both the ball and the opponent, and should move when the ball moves and still be able to react to the movements of the opponent. Those players, however, who do not have "split vision" and cannot watch the ball and the opponent at the same time should watch only the movement of the opponent and should move when the man across the line of scrimmage moves.
2. Strike a Blow.
Football is a game of contact, but with today's great emphasis on pursuit-type defenses, many coaches neglect to impress their players with this fact. Contact must be stressed. Each defensive linemen must move toward his opponent and strike a blow on each play. The type of blow to be struck depends upon the defensive philosophy of the coach. The forearm shiver, the shoulder charge, and the forearm rip-up are some of the preferred methods of striking a blow. While these and others are good, we believe that the combination of shoulder charge and forearm rip-up best suits our needs.
It is well known fact that football games are won or lost in the line during the first five minutes of a game, and the offensive or defensive man who establishes supremacy right from the start is the man who will control that bit of territory. Thus, it is essential that "striking a blow" be one of the basic rules of defensive line play.
3. Neautralize the Offensive Charge of the Blocker.
The interior line in striking a blow must neutralize the offensive charge of the blocker. The charge of the line must be low and hard, and each defensive player must be in a position to move laterally if necessary. This will do two things to the offense: First, it will prevent yardage from being made through any area in the line, and second, it will prevent the offside (side of the line away from where the ball is going) of the line from aligning with the running lane (running interference downfield).
4. Move to a Spot on Defense.
For a successful defense, each player must reach his designated spot. The spot, however, for the defensive lineman will differ with various defenses. For example, a penetrating type of defense requires a man to move across the line of scrimmage to one spot, while a hold or pursuit type of defense gives the man another spot to reach.
5 Protect Your Territory.
"Protect your territory" should be the creed of all interior linemen. each man must be made to feel that his particular territory is the most important area in the team's defense, and his attitude is the most important area in the team's defense, and his attitude must be one of daring his opponents to run over him. Since the combination of all individual defenses becomes the team defense, it is essential that each man protect his position.
Players know that they will be blocked at times. A poor lineman will allow himself to remain blocked , but a good lineman will react against the block and protect his territory. A point to remember for the defensive lineman, however, is that the only time he should move to protect a teammate's territory is when he is positive the ball is not going through his own territory.
6. Locate The Ball Carrier
Many times in this era of "T-formation" football, linemen are fooled by faking tactics – they move too quickly in the direction of the fake, leaving their territories unprotected. Each lineman must be made aware of this common error and must locate the ball carrier before determining a course of action. It should be pointed out that falling prey to faking tactics can be avoided if linemen adhere to these defensive principles in the exact order stated herein. Following these principles in sequence would correct, for example, such a common error as leaving one's territory unprotected by attempting to locate the ball carrier before striking a blow.
7. Never Run Around a Blocker.
Interior linemen must never run around a blocker, because causes two things to happen: (1) it will open the interior lineman's territory to a running back, and (2) it will put the lineman in poor pursuit position. There are four ways of getting through a blocker to a ball carrier after contact is made.
The defensive man can:
a. Go through a man.
b. Submarine under a man and plug a hole.
c. Roll out, pivot out, or wheel out.
d. Go over the blocker and attempt to make a tackle.
Good pursuit is essential to successful defensive play. Many factors enter into this including such intangible things as the determination, physical makeup, attitude, morale, and aggressiveness of the players. But also of prime importance to success is an organized system for pursuing the ball carrier which will give the defense full field coverage, prevent long runs, and give the interior linemen good tackling angles.
Coaches must remember, however, that in certain defenses, pursuit is limited. For example, in a penetrating type of defense, the fact that the linemen attempt to cross the line of scrimmage intothe opposing team's backfield gives them that much more area to cover in pursuing the ball carrier.
9. Gang Tackle.
In addition to learning the correct angles of pursuit, as mentioned in number 8, the defensive interior linemen must be made to feel responsible for either assisting in or making every tackle of the game. This good team pursuit and concerted effort to tackle will result in effective gang tackling. A point to stress here is that players should "go for the ball," thus trying to force fumbles. You will find that consistently successful gang tackling can do much to pave the way for victory.
In conclusion, coaches should strive to build up team pride in defensive line play because it is more difficult to be a good defensive player than a good offensive one. In fact, many Split-T coaches, adhering to this philosophy, select their personnel on the basis of defensive ability first and offensive ability second.
Defensive Line Alignments
Each player needs to know exactly what to do at all times, how to perform the skills, and when to execute them. With this in mind, we have developed a set of techniques for each man at any spot he man line up in on the line of scrimmage. Our players know exactly what is demanded of them whenever they move to a certain spot on the defensive line. At times we have them line up in a certain spot where they have been performing a particular move and do something else.
To work within the framework of what to do, how to do it, and when to do it, we have developed a set of techniques for each defensive man by naming three places on the offensive blocker the defender can use to line up.
The players line up in positions as designated by the defensive call. Once the call is made, the linemen move up to the line of scrimmage from the huddle and move to one of the positions shown in the diagram. They then use the technique they were taught for the position.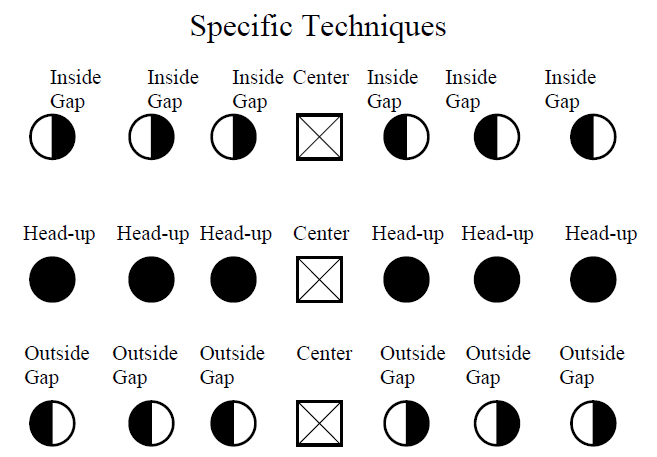 The following illustration will provide you information needed when discussing defender alignments when getting into the numerous defensive schemes. Anytime a defender aligns head-up on an offensive lineman he will be known as an even numbered defender. Whenever we talk about a shaded defender he will be identified by using a odd number.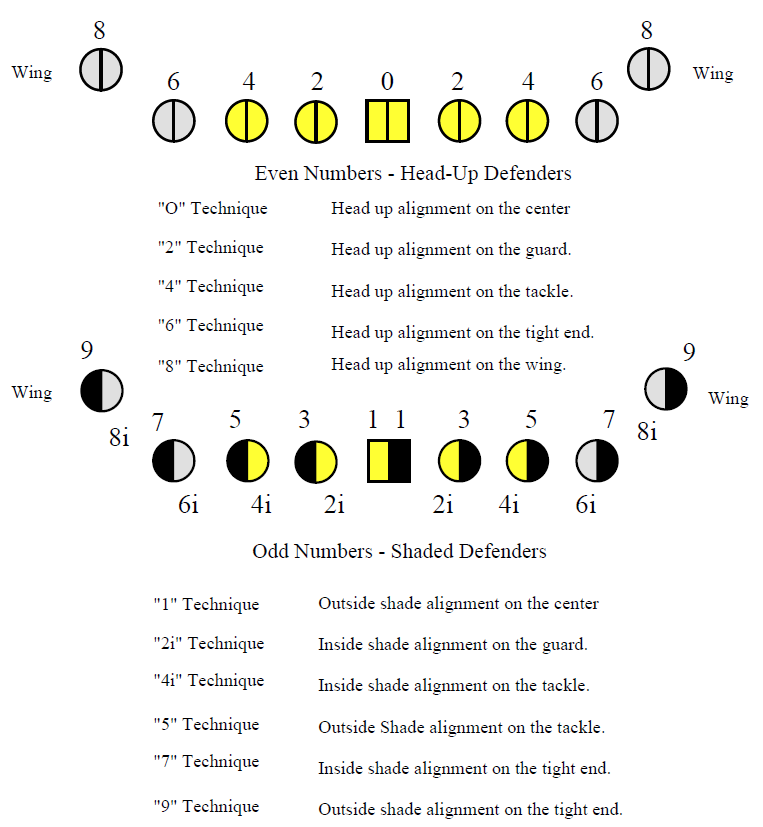 When discussing shaded defenders the base alignment will be the inside foot of the defender splitting the midline of his offensive alignment. Whenever talking about a wide alignment it will be the inside foot to outside foot of the offensive personnel. When we talk about a ghost alignment it will be a defender outside on air, usually to an open side.
This is Part 1 of this article.  Click here to read Part 2
About the Author of this post:
Jerry Campbell has over 30 years of high school and college coaching experience. He has experience as a head coach, offensive coordinator, and various position coaches. He has written numerous football coaching articles in various publications, is the author of over 30 books on coaching football, and has produced 12 coaching video series. Additionally, he is a nationally sought after speaker on the coaching clinic circuit.