By Keith Grabowski
Offensive coaches love to talk about attacking every inch of the field.  In order to do that, having a perimeter run game is necessary.  The 10 personnel spread teams may utilize the bubbles and smokes as an extension of their run game, but being able to turn around and hand it to one of your weapons is the "old school" method to attacking on the perimeter.
Get the Perimeter Run Game Going 
Coach Mike Cummings has seen it all, having coached at the high school, D2, D3, FCS and FBS levels, and he likes utilizing the pin and pull as his perimeter play.
When it comes to coaching any concept that makes his insight valuable because he knows the challenges at every level of football.
That's true of his teaching of the Pin and Pull Concept. Cummings defines Pin and Pull as a man scheme.  All blockers are assigned to a particular defender on the frontside of the play and it is usually zoned on the backside of the play as illustrated here: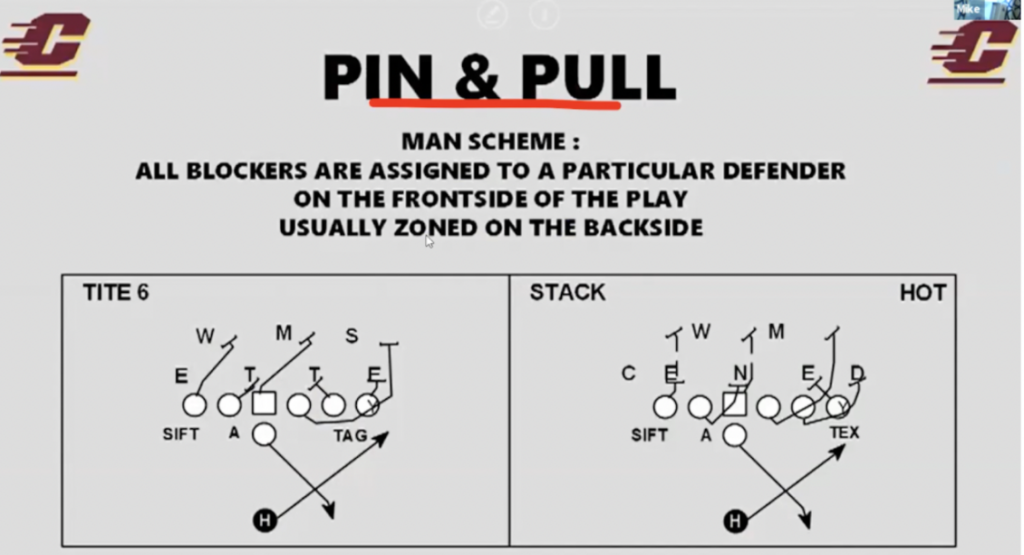 In the run game it's always important to get a hat on a hat.  If you can do that, every play has a chance.  Structure and communication create that consistency for Cummings. This starts with identifying the Mike linebacker and understanding the rules.  
The easy rules to identify the Mike is: 
He is middle of 3 man side

or the backside of 2 man side 

or he is always to the shade. 
It is a rule that holds up.  He explains that in this video:
The next aspect is teaching the technique.  There's always a down blocker (pin) and a puller.  The down blocker isn't necessarily looking for a devastating block.  He wants to keep that defender where he is and account for any movement. To do that, he will settle with the inside foot and adjust to movement. Using the hands is key. He wants to play long and use hands remembering that one arm is longer than two.
The Puller's main objective is to get away from penetration by taking a pull that is deep enough.  Cummings teaches both open pulls and skip pulls to accomplish this. He needs to have his eyes on his assignment and attack playside # of 2nd level defender.
The best way to understand this is in the progression from individual to group then team.  In his course, Cummings illustrates this with individual drills and spends a lot of time teaching off of team/game film to troubleshoot technique.  Below is a video from group period:
Coach Cummings does a thorough job covering this play from multiple fronts and answers common questions.  If you are looking for a place to start your implementation or improvement of the pin and pull play this is the place to start. 
If you want to learn more, check out Coach Cumming's Clinic "Teaching Pin and Pull Schemes" and get that perimeter run game going.