By Keith Grabowski
Many  teams do a great job with their formations.  Those that really want to stress a defense use shifts and motions on most plays.
Some of the most successful offenses in the NFL move almost every play.  They like this because it stresses a defense in that they have to recognize, communicate and adjust. That's three opportunities to be wrong. 
Unfortunately, many times you will see the offense taking too much time to get aligned.  Even with formations that are unique and definitely required adjustments from the defense,  a team slow out of the huddle gives the defense had plenty of time to align.
A better answer for the huddle offense is better tempo out of their huddle.  The sugar huddle which is closer to the ball that is broken out of quickly then starts their movements can cause chaos for the defenses recognition, communication and adjustment.  
A shift done slowly really does not stress a defense that much.  Shifts should be done at a "run" pace.  It doesn't have to be a sprint, but it certainly isn't a jog or a walk.
2019 state champion Pleasant Grove High School and head coach Josh Gibson realized this advantage and attributed it as a major factor in their championship season.  Coach Gibson talks about it here (click image for free video):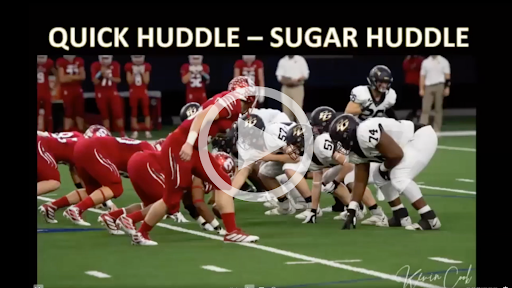 The other great aspect of the sugar huddle is that it allows you to have the effects of being uptempo after breaking the huddle and quickly getting the snap off, yet it allows the offense to use the clock as well.
To learn more about this course click the following link: Holding Defenses Accountable 'Sugar Huddle' and BIG Passing Plays