Inside Linebacker Stimulus Responses and Techniques
Ball To:
A Gap – Stay Technique – Defending Dive
B Gap – Slow Technique – Defending ISO
C Gap – Scrape Technique – Defending Power Plays
Outside – Speed Technique – Defending Toss and Sweep Plays.
Ball Away:
Check Counter
Linebacker Stance: Start with feet staggered, outside foot is back with shoulder width feet apart split. First step is with outside foot to balance.
Keys and Reads:
If Linebacker is covered key near back your side.
If Linebacker is uncovered key through uncovered offensive lineman.
Pre and Post Huddle Four Point Progression
1. Game Situation:

a. Time Remaining
b. Score
c. Time-Outs
d. Quarter, Half, and Final

2. Field Situation

a. Hash
b. Down and Distance
c. Red Zone

3. Opponent Situation:

a. Formation
b. Run, Pass, Play Action
c. Personnel
d. Hash, Field Position

4. Defensive Call Situation:

a. Front
b. Alignments
c. Time – Outs
d. Situation Responsibilities
1. Run To
2. Run Away
3. Pass
Mike and Will Linebacker Gap Recognition and Responsibilities
Mike and Will Linebacker Gap Techniques
Mike and Will Linebackers will be responsible for controlling two gaps on run plays. Gap responsibilities will be determined by the defenive front called in the huddle. Linebackers are responsible for one gap on run to them and another gap when run goes away (check counter). The following terms are used to describing gap responsibilities. When designing your drills you should use the following words to help in describing read and react responsibilities.
Technique

Stay
Slow
Scrape
Speed
Check Counter

Responsibility

Near A Gap
B Gap
C Gap
Outside
Backside A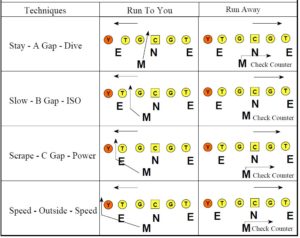 Mike and Will's run techniques along with keys and reads

Four Basic Guard Keys By Movement

Reduction Reads
In a reduced or even front alignment, your linebacker reads are now strictly Fullback to near back. On the snap of the football your linebacker's will take a freeze step or step to balance and then react to the backs initial movement when run comes to him. When initial movement is away from your linebackers they should step to secure counter action and then react to type of play being run.
5 Basic Back Movements
A running back's movement is determined by the angle of his running lane and by the way he receives the football. A running back's flow is broken down into 5 types of movement Dive, ISO, Power, Toss, and Check Counter. The different angles and the way the ball is delivered to the back will effect our linebacker's reaction.

Run Block Stimulus For Linebackers
This section will focus on the different run reactions that inside linebackers must key and understand, when we talk inside linebackers we are talking about the Mike and Will Linebackers, the Sam will be included only when running the Wide alignment. The run stimulus provided in this section should carry right into your drill work at practice. Depending upon the area the offense is attempting to run the ball the Linebackers should know what type of play they are defending. As you execute your drills and verbal commands Mike and Will Linebackers should always give thier verbal stimulus. The following illustration gives you their stimulus and response.
You can access part 2 of this post at: Inside Linebackers Teaching Reaction Part 2
About the Author of this post:
Jerry Campbell has over 30 years of high school and college coaching experience. He has experience as a head coach, offensive coordinator, and various position coaches. He has written numerous football coaching articles in various publications, is the author of over 30 books on coaching football, and has produced 12 coaching video series. Additionally, he is a nationally sought after speaker on the coaching clinic circuit.