Benefits of Using the Diamond Formation:

Mismatches on the Perimeter: With nine players in the box (five offensive lineman and four backs) defenses are sure to load the box by playing 8-man fronts or locking down the perimeter. Once the defense loads the box, you get one-on one coverage with the outside receivers.
Extra Hats = Extra Gaps: Whether you specialize in man, zone or gap run schemes, the extra blocker coming from the backfield is a big bonus. You can run inside zone and still have a lead blocker (by having the backside back cut off the C gap). You can run Power and have the backside back pull and lead through or you can simply run your isolation schemes and send both backs through the point of attack. It's a terrific equalizer to teams that will try to put eight or nine defenders in the box – you have eight to block them.
Three-Back Offensive Sets: You get the opportunity to have three of your better athletes on the field at one time and really develop your run game concepts by distributing the football.
Balances Up the Defense: You force defenses to declare their strength pre-snap by setting their front and their coverage. Once they tip their hand, you can run Power or Isolation either way (with the QB checking which side). A balanced offense makes it difficult for an even front defense to set its strength and it allows teams to audible and run at the 1-tech or 3-technique. You can run the same plays both directions without shifts/motions.
Instant Misdirection: We all know how difficult it is for defenses (particularly at the high school level) to diagnose misdirection schemes efficiently. The three back set up in the diamond formation provides you with misdirection on any run scheme, because chances are you need only two backs at the point of attack – you can send the other one away. Gap schemes tend to work best because you don't need to pull an offensive lineman. Many of the coaches we spoke with also believe that it eliminates defender's ability to cross read vs. schemes like the inside zone and allows offenses to effectively run the inverted veer with the QB play side.
Pre-Snap Motions and Shifts: Once you start in the diamond formation and defenses declare, it's similar to empty where you can move and motion to get the numbers advantage you want. They can't overload the box because now they're forced to expand a defender out of the box.
Definition of Hybrid
Anything having two kinds of components that produce the same or similar results, such as a vehicle powered by both an electric motor and an internal combustion
engine as sources of power for the drive train.
The following information is a combination of my experience plus conversations with many coaches who use multiple concepts in building an offensive philosophy that is based around spreading the defense and using formations, motion and option game to control defensive fronts and alignments. I added the option game to the Diamond to set the passing game, which in turn will allow us to run our Isolation, Stretch and Inside plays using zone blocking schemes. By adding an option attack with the Gun, Pistol and Under Center offense is to keep defenses from ganging up on you and forces the defense to spread the field.
The option game included in this manual is based around reading outside inverts for best option and the pairing of options that takes advantage of the end man on the line of scrimmage. The Zone Read game reads the backside E.M.L.O.S. also, known as a zone read and the Flexbone Pistol, which employs both concepts of reading the option game.
The offensive option game will first be based around running the midline which takes advantage of a three technique, inside veer which takes advantage of an over active five technique, each which is based upon a triple option threat. The last of our two base options will be the load and speed options, which are both double options. The speed option takes advantage of a five technique with no outside invert and the load option, which takes advantage of a nine technique.
If and when you install the Diamond offense consider installing several option plays which will keep defensive schemes from ganging up on your offense and make your traditional plays much more effective. Always introduce defensive schemes that pose worse case scenarios, this will better prepare you for attacking defensive alignments that will most hurt the play called.
Isolation plays are built around the terminology of "Part The Sea" at the point of attack. In other words find the least restrictive push for our offensive line and attack the bubble with the Tailback. Our blocking schemes are built around zone blocking concepts which will always give our running backs the possibility of cutting the ball backside, this is called running to daylight.
The passing game philosophy that I have included in this manual will give you several ideas along with a built in method for calling your offense which, is built around 100 series Play Action passes, 300 – 3 step, 500 – 5 step and 800 – 900 Sprint out passes. The passing game must be able to take advantage of what your opponent is giving you. We want to control the passing game with curls, out, and option routes that control high percentage completions (take what they give you). The screen game becomes more successful by making defense have to adjust to multiple formations and motions.
You must be able to challenge not only your own learning curve (coaches), but challenge your kids to execute and play at the next level, must teach to near game like situation, repetition is the key. Think your drills out as they pertain to possible worst-case scenario.
Reasons for Running the Hybrid Diamond Offense
The Diamond and Flexbone Pistol Formations allows the Quarterback to have vision.
Quarterback poses more of a run threat.
It's a System
Formation Friendly.
Can Drive the ball with a solid power game.
Deception with a four back running attack as well as having a five receiver passing attack at the same moment.
The Diamond Offense in conjunction with the Flexbone Pistol High Hybrid Wing-T features a no huddle hurry up offense working off verbal alerts and hand signals from the sideline along with player wrist bands that feature a code that allows for fast play calling. This feature of a hurry-up and gun formations is what makes for a Hybrid Diamond and Flexbone Pistol Wing-T offense.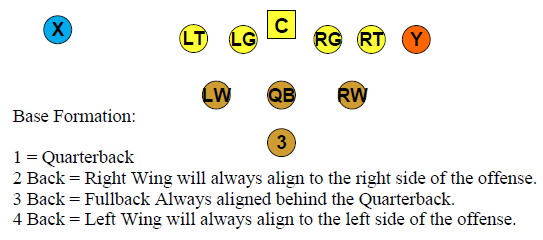 Position Terminology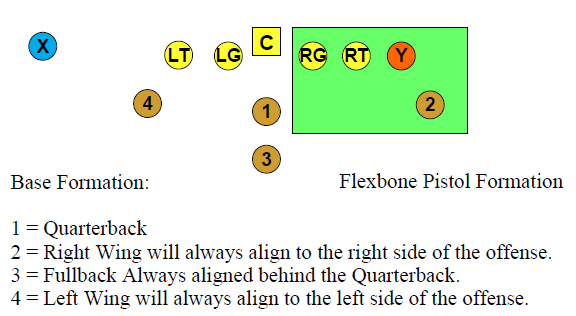 Hybrid Diamond Wing-T (High Tempo)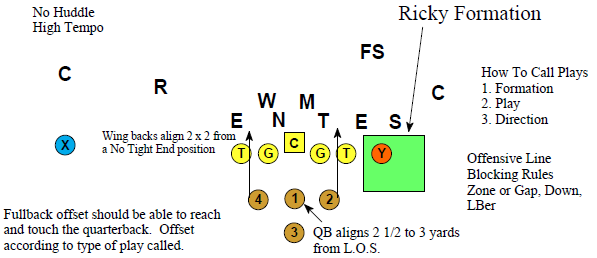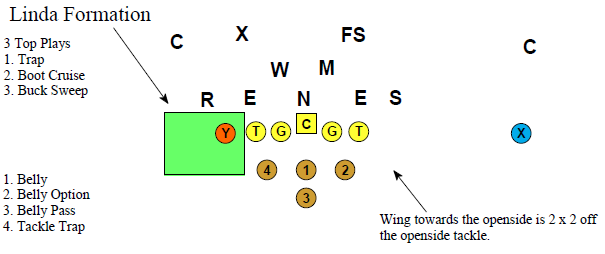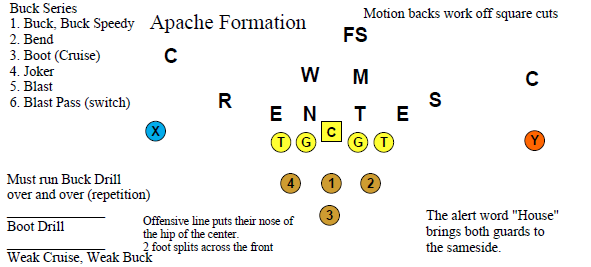 The document below shows a few more formations
About the Author of this post:
Jerry Campbell has over 30 years of high school and college coaching experience. He has experience as a head coach, offensive coordinator, and various position coaches. He has written numerous football coaching articles in various publications, is the author of over 30 books on coaching football, and has produced 12 coaching video series. Additionally, he is a nationally sought after speaker on the coaching clinic circuit.