Branden Jakubcin, Assistant Coach, Heidelberg University
Article provided by Glazier Football Coaching Clinics.
You can also checkout more articles and videos like this one at the Glazier Clinics Online Learning Vault
Field Position
How Important Is The Kicking Game?
• It Can Directly Determines The Offense's Ability And Probability of Scoring On The Following Drive.
• It Can Also Put Unwanted Pressure On Your Defense.
The Field Chart below clearly shows just how dramatically starting field position relates to scoring points.

Positions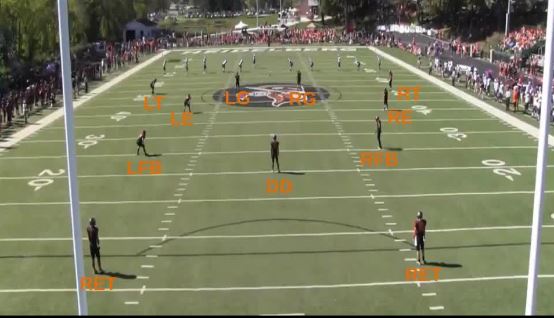 Identification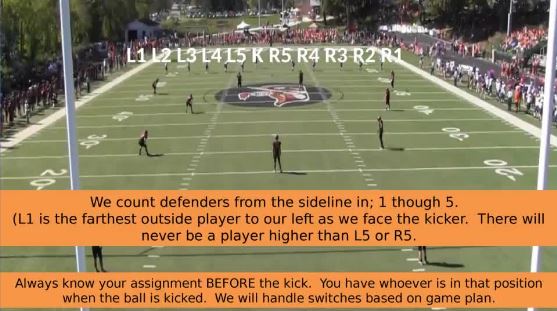 Assignments
Position
Alignment
Drop
Assignment
Left Guard (LG)
+48
-33
Block L4
Left Tackle (LT)
+48
-30
Wall Off L2
Left End (LE)
-40
-31 At Midfield
Cross Block R5
Left Full Back (LFB)
-25
Near Shoulder of DD
KickOut the L3
Devil Dog (DD)
-20
10 Yards in Front of Kick
Most Dangerous Man
Right Full Back (RFB)
-25
Near Shoulder of the DD
Kick Out the R3
Rght Guard (RG)
+48
-33
Block R4
Right Tackle (RT)
+48
-30
Wall Off R2
Right End (RE)
-40
-30 at Midfield
Cross Block L5
Returner
By Gameplan
Depends on Kick
Follow Non Returner
Through Middle of Formantion
Non-Returner
By Gameplan
5 Yards in Front of Returner
Block Most Dangerours Man
Middle Trap Front 6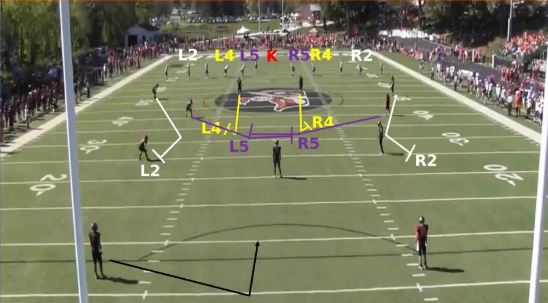 Middle Trap Back 5