By Keith Grabowski
The one thing that North Carolina offensive coordinator Phil Longo spends a lot of time evaluating is INSTINCTIVENESS. 
Coaches talk about the concept of wanting players to play fast.  The idea is that a well-trained player can play fast and without having to think much.  
Phil Longo likes to call it "playing instinctually." On the Coach and Coordinator Podcast, Longo shared that he and his staff place a huge emphasis on the belief that getting every player contributing on Saturday is to get them to play instinctively without thinking.
Longo believes that a player that has to think about things he becomes limited, so the emphasis in teaching the players how to be successful in the offense begins with keeping it simple enough in scheme so that the player can learn and have the freedom to pay instinctively.He actually has a system for evaluating that where every player is ranked as 1-4 
1 – The player is running instinctively.  
2 – Sometimes he has to play, and he is a solid player.  
3- This player is learning but not ready to play.  
4- New player to the program.
In his complete course Coach Longo covers everything from fakes, their various drips, maintaining balance, and seeing the field.  He shows the drills he uses and analyzes film of his quarterbacks as well. 
Working to develop the footwork and mechanics allows his players to better execute and play instinctually.  
In the video below Coach Longo discusses one the footwork drills that he uses.
(Click the Image to play the video)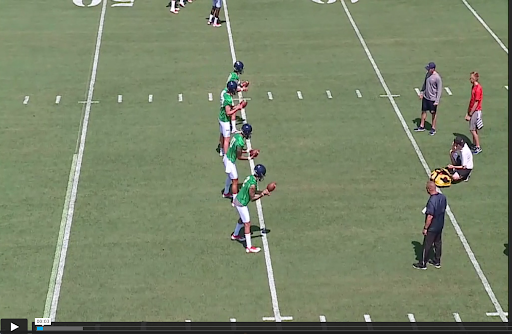 If you like this drill, you should take a look at Coach Longo's complete course.
QB Drills and Techniques in the Air Raid: Phil Longo
Be sure to grab this one for your quarterbacks or quarterback coach.  This is valuable at every level of your program
Here's the Coach and Coordinator Podcast where Phil and I talk about evaluating player instinctiveness.