The Punt Team does not huddle. The "Personnel Protector" calls all of the schemes at the line-of-scrimmage. The schemes include:
Spread Punt – this is a spread punt alignment and the Personal Protector will make a call either to punt or fake. If it is a punt, they identify the blocking scheme by making a numerical call.
Tight Punt – the Protector will make a "tight" call signaling the Bomb Squad to line-up in a tight punt formation. This is typically used when punting out of our own end zone.
Wacky – the Personal Protector will make a "wacky" call. This is "rugby" style punt, which incorporates a wild shift by the Bomb Squad. It has been very successful not only in drawing opponents offsides, but in gaining field position. The formation includes a number of fakes if the return team does not adequately defend the alignment.
"Shield Punt" or "Purdue" alignment.  This is a tight punt formation; however the three protectors create a wall at seven yards.
Fakes – gadgets are important, however if you are going to spend the time practicing them, then you must be willing to pull the trigger on game night.
The following schemes are necessary to be adequately prepared for those special circumstances that can occur on game night:
Quick Kick – this is an early down (2nd or 3rd) surprise punt by the offense. If you believe in field position, then a quick kick must be part of your arsenal.  Also, a quick kick does not always have to be used when you are deep in your own territory. Consider using a quick kick on a defensive advantage down; i.e., 3rd and 25 from 50-yard line. The element of surprise may yield great results – outstanding field position for the defense or a turnover.
Spread Green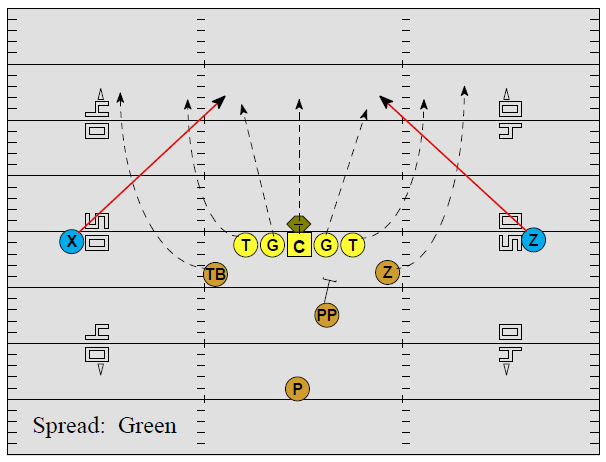 The punt team must develop expertise, precision and teamwork. Again, the talents of the snapper, punter and gunners will directly impact the types of schemes that will be used during a season. The goal of any punt means our goal is to always gain forty (40) yards of field position when we punt. Field position is a critical factor to success in any game.
The punt team generally creates field position through coverage and/or punt placement [pooch or directional punt]. The effectiveness has a direct impact on the type of offense or defense that can be used.
George Allen said, "I emphatically believe that the punt is the most important play in football!" so, with that being said we work to make our  punt team an offense as well so when defending our punt schemes our opponent must understand we can also run and passing from all our punt formations which will be explained to our team in detail.
Coaching Points for Spread Punt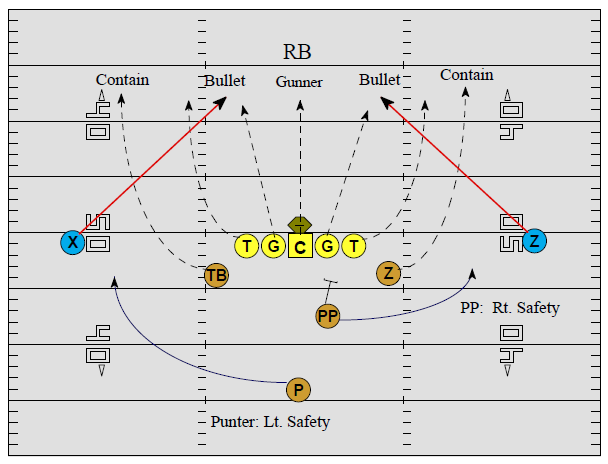 Coaching Points
The depth off the LOS while maintaining a solid wall as the linemen execute their blocks is critical to the integrity of the protection scheme.
Blocked punts are the result of missed blocks.
Drill bad snap situations and how to take a safety.
Versus a hold-up return scheme, the blockers must use a "dip and rip" to free themselves.
The gunners and center create a triangle or "net" as they converge on the ball carrier.
Spread Punt Position Technique
Gunner & Bullets Release directly to the ball with a landmark 3-yards outside the returner. If there are two defenders then make a "wide" call to alert the Wings of a possible creeper and help the linemen with their count.
Wings Block No. 1, unless executing "soft" in which case they hold off (or punch) No. 2 and block No. 1. Release with a 15-yard arc for 20-yards. A "switch" call can be made with the Tackle to switch coverage responsibilities.
Tackles Block No. 2, unless executing "soft" in which case they hold off (or punch) No. 3 and block No. 2. Release with a 10-yard arc for 20-yards. A "switch" call can be made with the Wing to switch coverage responsibilities.
Guards Block No. 3, unless executing "soft" in which case they hold off (or punch) No. 4 and block No. 3. Release with a 5-yard arc for 20-yards.
Snapper Make a perfect snap and then block No. 4 (in a balanced front) to the side directed (Reno-right; Vegas-left). Block No. 5 versus an overload situation. Release directly to the ball keeping the ball directly in front.
Protector Make the scheme call twice. Block No. 4 away from the call (balance) or to the call in an overload situation, otherwise step-up and block the most dangerous rusher. Do not back up. Safety to side of the kick.
Punter Catch the snap! Execute the proper technique for the punt. Always have a purpose for the kick. Safety away from the kick.
About the Author of this post:
Jerry Campbell has over 30 years of high school and college coaching experience. He has experience as a head coach, offensive coordinator, and various position coaches. He has written numerous football coaching articles in various publications, is the author of over 30 books on coaching football, and has produced 12 coaching video series. Additionally, he is a nationally sought after speaker on the coaching clinic circuit.