This article was written by Coach Jason Hahnstadt.
The original article appears at The Ultimate Guide To Inside Zone Blocking.
My head coach asked me, "So what's our offense going to look like this year? Are we going to keep running the Double Wing I put in 20 years ago and is still winning games for us?"
I answered, "Not exactly. We are going to put in a new running scheme that will work against anything."
"You mean like power," he answered?
"Actually, I mean Inside Zone," I said. "It's the one play almost every college is using and is the base run of nearly every single pro style and spread offense."
"Not only that, but if a guy goes down, we can easily shuffle the line around and the next guy up will know how to run the offense as well as the first guy."
"OK, that's what I hired you for. But know this," he replied, "If it's not working, we're going right back to my stuff."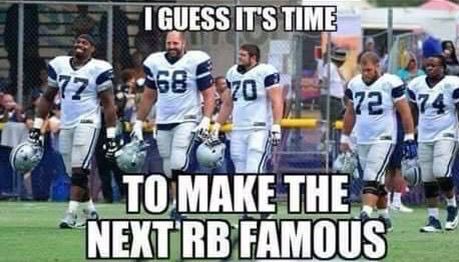 I knew that's what he'd say, so now I had to prove to him that one single running concept could do all this and more.
So I started researching inside zone everywhere I could.
Then I realized I had a bigger problem than I initially expected.
Everywhere I went, I got different answers. I also wasn't sure if the techniques I was reading about would work at my level.
How in the world could I figure out which way to run inside zone was going to work, let alone, which was was the best?
Eventually I settled on a few ideas that I felt would work, but all the information I got was from dated coaching manuals and vague internet articles.
Fast forward 10 years later and whenever I search online for Inside Zone material, there's a lot of good stuff out there.
But now the problem is you have to know what's good and what's flat out terrible!
As a blogger, I've decided to help you out with this by compiling ONLY the best information on the Inside Zone.
This is the good stuff I've found…
…so you don't waste your time on endless Google or YouTube searches.
Concepts of the Inside Zone
Before you run any kind of play, this is the most important part of first understanding it. It is the "Why" behind everything you are doing.
The "Why" should guide everything you do. For example, where is the running back trying to run the ball. Inside or outside?
If it's inside, then what angles and techniques do each player need to use?
That's why this video is so important…
…because it sets the framework for everything else.
The Inside Zone Count System
The first thing I noticed when I started looking into the Inside Zone run play was that there were a whole bunch of different ways to teach who to block.
There is the Covered/Uncovered, the Count System, the Train Tracks, the Gap System, the Wedge, etc…
And they all could work – but which is the best?
That first season teaching it to my team showed me very quickly which one.
I learned two things fast:
Every player needs to know who they are going to block before the play starts.
Every defensive player needs to be accounted for or the play gets blown up.
Taking those two criteria, I landed with the Count System. It is the only system that clearly identifies who your guy is before the play begins.
It also is the easiest system that accounts for every single player who could blitz…
…even against Odd and Stack fronts when edge defenders are blitzing.
I also love that no matter what our surface is…TE or not, RB included or not; it was easy to point to their guy and include them in the run scheme.
So here's a quick video on how the Count System works:
Steps and Combos
The next thing you need to study about the Inside Zone is Offensive Line Steps and Calling Combination Blocks.
I found this excellent article that breaks it all down here.
The whole point of the play is to block a defender where they are, and not have to "move them." Here's a couple of key points why this is important.
If you can block a guy with two defenders, there's even less chance they are going to make a tackle. So find as many ways as possible to use double teams.
To stay between a defender and the ball, you need good footwork. That means that not all steps work for all situations in your inside zone run. You gotta have a toolbox to use.
Read this article to learn how to label each different kind of step and what to call each kind of Combo block:
https://www.behindthesteelcurtain.com/2013/5/27/4363750/zone-blocking-running-football-breakdown-highlights-analysis-diagram
Teaching RB's how to run the Inside Zone
Once you have the line assignments and techniques down, you will want to make sure that your running backs are coached up to match the zone scheme.
Zone schemes vary in one huge aspect from most traditional run plays.
Running backs are not told exactly which hole to run though. Instead, they are coached to run to green grass…or whichever hole opens up.
Most coaches just say to let the athlete be who he is…an athlete. But you can help him by setting some guidelines such as the aim point for starting the play.
You can also really get some great benefits by teaching your running backs the best moves to avoid tackles and quickly get positive yards.
This article includes some great running back drills while it coverings the following topics:
Stance and Alignment
Initial Steps and Aiming Point
Pressing the Line of Scrimmage
Making the Read
Getting North/South
Click HERE to Read This Article
Inside Zone Blocking Drills
Once you know what to do, you gotta figure out how to drill the play in a simple progression. I love to use a part to whole concept instead of putting it all in at once.
This will keep you from wasting a bunch of practice time talking and not actually practicing.
The Miami Dolphins show us a great example of 2 on 2 and 3 on 3 Zone Blocking Drills in this video:
You will also become an expert on Blocking and Drill work by watching the rest of these videos during your free time.
Jim McNally is a former NFL offensive line coach and is also known as the Zone Blocking Guru for his innovative approach using the Double Uppercut blocking technique.
Offensive Line Drills – Jim McNally
When I first discovered this drill, I loved how simple it was and how how it could be used with any team and didn't require any kind of expensive lineman boards, chutes or sleds.
All you need is 5 cones…hence the name!
5 Cone Zone Blocking Drill
Herb Hand is another Offensive Line coach currently coaching at Auburn who is also one of the most highly respected line coaches in the country.
You will learn a bundle watching this video of his.
Some of my favorites that should easily be in your Every Day Drills segment are the Leverage Switch, Weave Balance and the Push Pull drills.
There's a lot of reps on this video of each drill as well.
Offensive Line Drills – Herb Hand
This next video is from a coach I previously had not heard much about.
Jim Bridge has coached Offensive Line in many places that include NC State, Illinois, Purdue and now Duke.
And lucky for you he has a fantastic blocking progression video to learn from right here!
If you have a chute to work with, you will love these progressions, though you can still do them without one.
At the beginning, he also demonstrates in his drills how to roll the hips through contact and has a specific drill for every single step.
O Line Drills – Jim Bridge
What would a resource be if it didn't have a bunch of game clips to draw from?
That's why I've included these Inside Zone All-22 Cutups for you.
When you watch them you can see how teams are putting it all together to block a wide variety of defensive fronts.
Inside Zone All-22 Cutups
When you are ready to advance to the next level of Inside Zone, you can start to immerse yourself in Tags.
Tags are basically a simple word you add to the play call that usually makes one simple change to the play.
For example, instead of reading the #3 defender against a 6 man front, you may add a tag like "Crunch" to the play call to tell the Fullback to block him.
Now the QB knows he doesn't have to read him and can simply hand the ball off.
Inside Zone Tags
If all this isn't enough and you are still saying things like, "I knew all this already," then you can now immerse yourself in the deep end of Offensive Line strategy.
Yes, we football coaches ain't so dumb after all.
Watch Jim McNally really go deep and his passion for Offensive line is like no other. There are two parts to this one and I honestly only get about half of what he's saying so it's definitely Grad level stuff.
Inside Zone Clinic – Jim McNally Part 1 and 2
Conclusion
One thing I love about football is that there are so many incredible systems out there to learn from and apply.
The Inside Zone is also a play that I call a Core Run.
That means you can run it against anything and it will always work when your players execute it correctly.
You need these kinds of plays because you need to make things simpler.
If you want to learn more about how I like to block this play, then check out my free download right here that gives you the keys to blocking everything.