By Keith Grabowski
You may want to think about your comprehensive plan for training Quarterbacks in your program grades 7-12.  Five time state champion head coach Todd Dodge does exactly that.
Beginning with his 7th graders, Coach Dodge has a comprehensive plan for training quarterbacks in his program.  He explains the approach of how it starts with eight at the middle school level narrowing that down to two quarterbacks by sophomore year (click images for video).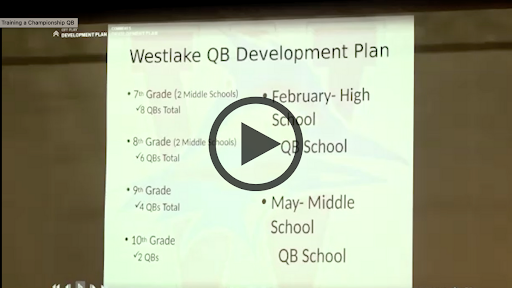 Having the quarterback who stands at the middle of the field in December and raises the state championship trophy begins with clear expectations.  Beyond being an accurate passer, Coach Dodge shares the characteristics that he must see from his quarterback in this video: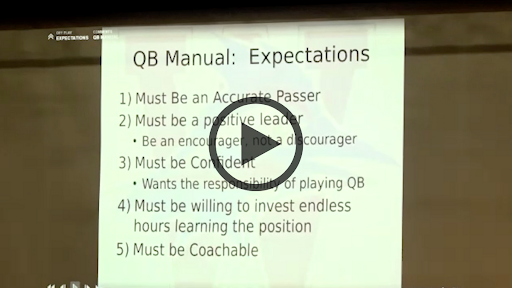 Coach explains the aspects of training a quarterback including his "3 camera" coaching point to help the quarterback understand the "stroke" of throwing a football which helps with accuracy. He explains the concept here: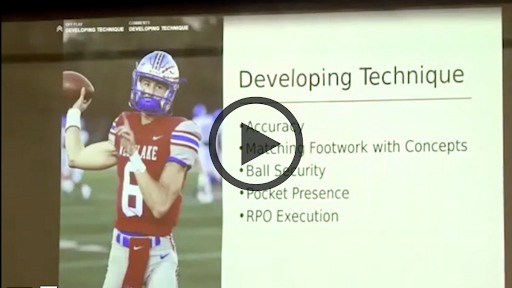 Dodge spends a good portion of his presentation covering how the quarterback's footwork must match the concept. Coach demonstrates how they think about calibrating their passing game with proper footwork illustrating their methods with drill and game film. 
He shares how they drill the quarterbacks in all aspects of developing their technique including RPO execution.
As you head into the summer and prepare your quarterbacks for the season, Coach Dodge's talk will give you plenty of ideas and coaching points to utilize with your own quarterbacks.
For more information about Coach Dodges complete course click the link: Training a Championship QB