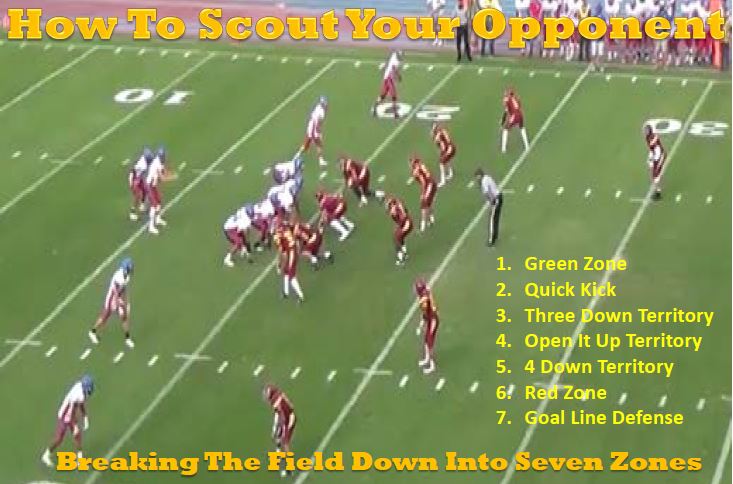 The following page will give us an understanding about offensive play decisions as an offense moves down the field coming out of the their end zone and moving the length of the field.
The field is broken down into seven zones.
Green Zone Goal Line to the -20
Must hold offense to 3 yards or less. Defense can take chances in this area and can get more aggressive, looking to force turnover. Gain field position for offense if we turn the ball over to them.
Quick Kick area —20 to the -25
Look for quick kick after a penalty. Must practice this as part of your stimulus response.
Three Down Territory —25 to the 50 yard line
3 down territory defense must hold offense to 3 yards or less because the offense will probably punt on 4th down.
Open It Up Territory 50 to the +35
Bread and butter plays and will also use their trick plays.
4 Down Territory from the +35 to the +20
Territory in which the offense will probably use all four downs to gain a first down. Look for offense to get ball to the person
that got them there. Must hold offense to under 2 yards per play.
Red Zone the +20 to the +5
Offense will use play action passes and possible trick plays. Defense must get tough.
Goal Line Defense the +5 and in
Area which an offense may move their formations into a more heavy formations such as the power "I", etc.
You might consider an extra lineman in this territory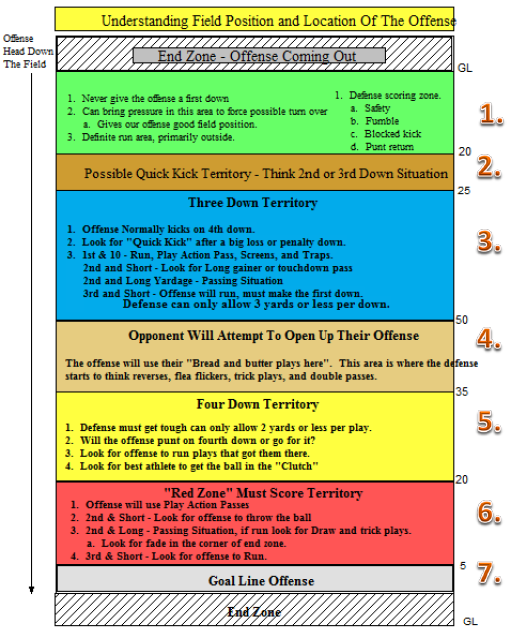 About the Author of this post:
Jerry Campbell has over 30 years of high school and college coaching experience. He has experience as a head coach, offensive coordinator, and various position coaches. He has written numerous football coaching articles in various publications, is the author of over 30 books on coaching football, and has produced 12 coaching video series. Additionally, he is a nationally sought after speaker on the coaching clinic circuit.