This is part 2 of this series. You can access part 1 at this link: Darkside Defense Part 1
by Chad Hetlet Head Football coach at Glenbard West High School (Illinois).
Coach Hetlet has been a defensive coordinator for 22 years and has never suffered a losing season.
Chad has been a Head Coach for 12 seasons at 3 different schools; he has a career record of 130-28 and has been one of the quickest coaches to reach the 100 win mark in Illinois history.
This post is provided by Glazier Drive
Glazier Drive includes 20+ systems with live Q&A, 900+ videos, hundreds of live events, and a complete social platform. Start your free trial at GlazierDrive.com.
Darkside Alignment Gaps

HEAD UP = (0,2,4,6)
OUTSIDE SHADE = (1,3,5,7)
INSIDE SHADE: (21,41,61)
FRONT LINE=SINGLE DIGITS
LB'S=START WITH 2 (EXAMPLE 24 TECH)
DBS=START WITH 3 (EXAMPLE 34 TECH)
Darkside Positions
Strong (Call) Side
Tank–Strong Tackle
Sword–Strong ILB
Rifle–Strong OLB
Fire–Field Corner

Quick (Opposite of Call)
Dart–Quick Tackle
Whip–Quick ILB
Pistol–Quick OLB
Bullet– Boundary Corner

Middle
Nuke-Nose
Mallet–MLB
Stealth–Free Safety

Huddle
Stealth Mallet
Tank Nuke Dart
Fire Rifle Sword Whip Pistol Bullet
Mallet gives Call from band
Stealth–Calls D & D plus coverage from band
Darkside–Gives strength call; stay in
middle of field till certain
DARKSIDE FRONTS
DARKSIDE BASE

TANK = 5 NUKE = 0 DART = 5
SWORD/WHIP = 24I….HEELS AT 3 1/2
MALLET = 20…..HEELS AT 5
RIFLE/PISTOL = 3X3
FIRE/BULLET = 1X7 INSIDE
STEALTH = 30…..HEELS AT 8
DARKSIDE GAP RESPONSIBILITY

The 6 defenders in the box have "C" gap to "C" gap
NUKE will play both "A" gaps "2-gap"
MALLET will be free!!!
The "D" gaps are covered by RIFLE and PISTOL
DARKSIDE TIGHT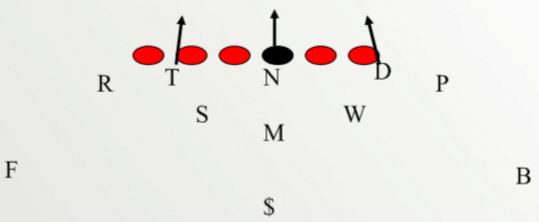 TANK = 5 NUKE = 0 DART = 5
SWORD/WHIP = 24I….HEELS AT 3 1/2
MALLET = 20…..HEELS AT 5
RIFLE/PISTOL = 1X1 (Only Change)
FIRE/BULLET = 1X7 INSIDE
STEALTH = 30…..HEELS AT 10
DARKSIDE GREEN

TANK = 5 NUKE = 0 DART = 5
SWORD/MALLET = 24I….HEELS AT 5
RIFLE/PISTOL = 3X3
FIRE/BULLET = 1X7 INSIDE
STEALTH/SS = HASHES…..HEELS AT 10-15
DARKSIDE STORM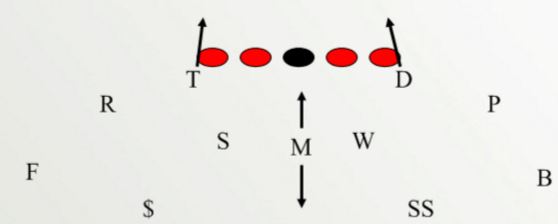 TANK = Loose 5 DART = Loose 5
SWORD/WHIP = 24I….HEELS AT 5
MALLET = 20 HEELS AT 5 OR RATTLE/JAM ON LOS
RIFLE/PISTOL = 3X3
FIRE/BULLET = 1X7 INSIDE
STEALTH/SS = HASHES…..HEELS AT 10-15
This is part 2 of this series. You can access part 1 at this link: Darkside Defense Part 1