Super Bowl Food Quiz
By Dawn Weatherwax, RD,LD,ATC,CSCS
The Super Bowl is a fun time to gather whether you enjoy American football or not. When people come together it usually means a lot of food! If you like trivia this is a fun food quiz to test your knowledge or even, make part of your Super Bowl party.
Enjoy discussing these entertaining facts!
VIDEO LINK of the whole Quiz
Food Quiz Resource: Restaurantware.com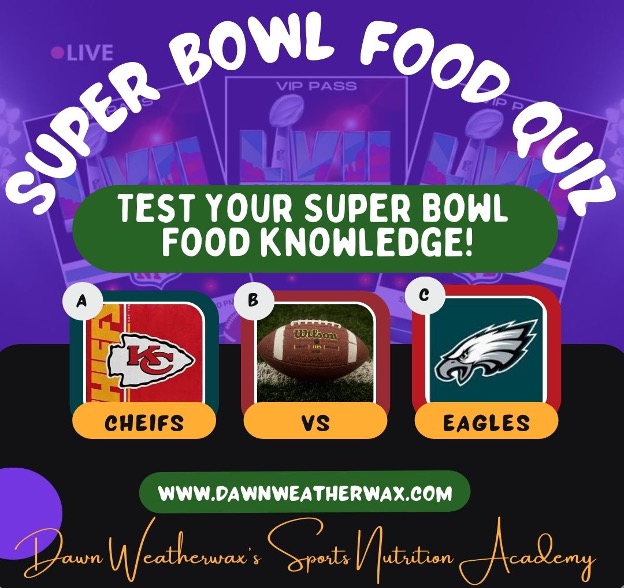 1. One in_________Americans order takeout during the Super Bowl?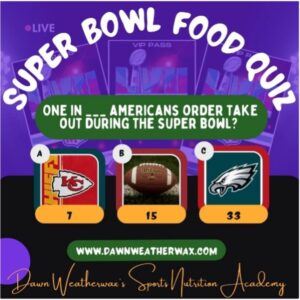 A. 7
B. 15
C. 33
A: One in seven Americans order takeout.
Right after Thanksgiving, Super Bowl Sunday is the second most popular day to order take out. It's estimated that around one in seven Americans, or 48 million Americans, order take out for the big game.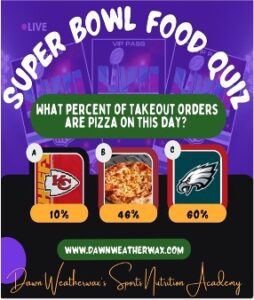 2. What percent of takeout orders are pizza on this day?
A. 10%
B. 46%
C. 60%
C: 60% Of takeout orders are pizza
If you've ever ordered pizza during the Super Bowl, you know it's gone as soon as it arrives.
If you want to put a healthier spin on this favorite without people noticing, try:
1. Grilled chicken or Canadian bacon in place of hamburger, sausage, pepperoni…
2. Go lighter on the cheese. The top of the tongue is the only place that has tastes buds.
3. Use a pesto as the sauce. Top with Grilled Chicken and any veggies and this is a huge hit!
4. For a yummy healthier dessert you can go with a fruit pizza!
These are also great tips for team and family meals as well!
3. How many chicken wings are eaten on this day?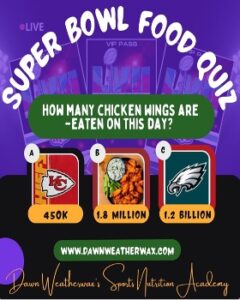 A. 1.25 billion chicken wings are eaten.
What is Sunday football without chicken wings? Especially during Super Bowl weekend. At this time, 1.25 billion wings are consumed, which equals 162.5 million pounds of chicken. This weekend alone is responsible for 7% of chicken wing sales every year.
To go with a healthier version try;
-Air frying them
-Try these healthier, good tasting recipe ideas
1. Baked Brown Sugar Chicken Wings with Roasted Red
Pepper Cream Sauce
2. Baked Margarita Chicken Wings
3. Barbecue Baked Chicken Wings
https://www.shape.com/healthy-eating/diet-tips/healthy-chicken-wings
These health tips work for team meals and growing athletes as well.
4. What chips are preferred on Super Bowl Sunday? Potato chips vs Tortilla chips?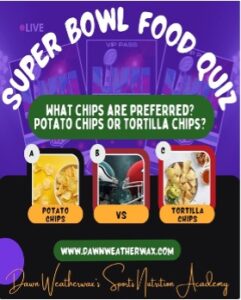 Millions of chips are purchased on Super Bowl Sunday and potato chips happen to be the favorite! In fact, approximately 11.2 million pounds of potato chips & 8.2 million pounds of tortilla chips are purchased.
It's really no surprise so many chips are snacked on, there's just something comforting about crunching on chips while watching the game.
I do prefer baked and non-GMO versions for either chip but consuming in moderation is the main goal! Always put on a small plate or bowl, eat slowly and enjoy every bite. Avoid standing around the snack table and eating mindlessly. One of my favorite substitutes for potato and tortilla chips are HIPPEAS. I challenge you to put them out in a bowl and see what people say!
These nutrition tips work for daily eating, school lunches and travel competitions.
FOR MORE OPTIONS:
1.Boulder Canyon Totally Natural Kettle Cooked Potato 2. Red Rock Deli Lime & Cracked Pepper Potato Chips
Chips.
3. Deep River Snacks Original Sea Salt Kettle Cooked Potato Chips
4. Kettle Foods Sour Cream and Onion Potato Chips
5. Deep River Snacks Mesquite BBQ Kettle Cooked Potato Chips
6. 365 Everyday Value Dill Pickle Potato Chips
7. Simply Lay's Sea Salted Thick Cut Potato Chips
8. Simply Ruffles Sea Salted Reduced Fat Potato Chips
9. Kettle Foods Organic Sea Salt Original Potato Chips
10. Good Health Olive Oil Kettle Chips with Cracked Pepper and Sea Salt
Tortilla
1. Late July Snacks Organic Sea Salt & Lime Tortilla Chips
2. Xochitl Corn Tortilla Chips, Salted
3. Best Blue Corn Garden of Eatin' Blue Corn Tortilla Chips
4. Siete Sea Salt Grain Free Tortilla Chips
5. Way Better Snacks Multi Grain Tortilla Chips
6. Food Should Taste Good Tortilla Chips, Sweet Potato, Gluten Free
7. Simply Tostitos Black Bean Chips
8. Food Should Taste Good Tortilla Chips, Sweet Potato, Gluten Free
Alternative
1. Bare Baked Crunchy Beet Chips
2. Beanitos White Bean Hint of Lime Skinny Dippers
3. Brandless Sweet Jalapeño Lentil Crisps
4. Hippeas
5. Popchips Yes Peas
6. SkinnyPop Cinnamon and Sugar Mini Popcorn Cakes
7. Terra Chips in Exotic Harvest
8. Beanfields Pico de Gallo
9. Food Should Taste Good Multigrain Black Bean Chips
10. Beanitos Garden Fresh Salsa
11. Barnana Organic Plantain Chips.
These nutrition tips work for daily eating, school lunches and travel competitions.
5. How many pounds of avocados are eaten on this day?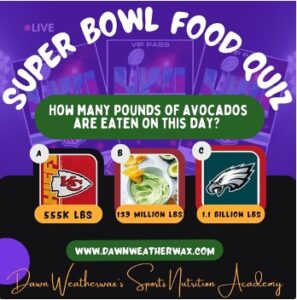 A. 555K lbs
B. 129 million lbs
C. 1.1 billion lbs
Avocados are a Fan-Favorite
While many of the foods eaten on Super Bowl weekend aren't the healthiest, you can look forward to heart-healthy avocados. They are high in fiber, approximately 139.4 million pounds of avocados are purchased to make guacamole or add to their meals for the big game. Guacamole is the dip of choice for Super Bowl get-togethers, with Americans enjoying 8 million pounds of it. So, add guacamole to your list if you want to offer guests healthy Super Bowl food.
A whole medium avocado contains about 240 calories, 13 grams carbohydrate, 3 grams protein, 22 grams fat (15 grams monounsaturated (very healthy fat), 4 grams polyunsaturated, 3 grams saturated), 10 grams fiber.
Try in place of mayo!
Try these recipes:
Chunky, Corn & Spicy Guacamole
6. 10% of Americans use this on Super Bowl Sunday?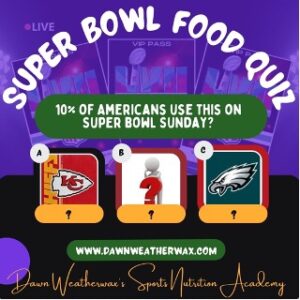 Answer: 10% Of Americans Use Their Grills
During the week of the Super Bowl, about 10% of Americans grill food, second to only the 4th of July. It is estimated that 14 billion hamburgers are made, while other options include hot dogs, steak, bratwurst, or grilled vegetables. It is tradition to fire up the grill during this day, whether in your backyard or while tailgating.
Brush on Organic Extra Virgin Olive oil and seasoning on those grilled veggies to get those healthy fats in. Healthy fats aid in reducing inflammation.
It is also a secret for young athletes who need lots of healthy fuel in dense amounts. 1 tablespoon equals 120-150 units of energy/calories.
7. Which healthy snack is the most popular on Super Bowl Sunday?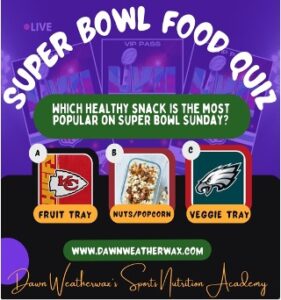 A. Fruit tray
B. Nuts/Popcorn
C. Veggie tray
B: Popcorn & Nuts Lead the pack on Popular Snacks
If you want to offer snacks, popcorn and nuts should be your go-to options. This is because 3.8 million pounds of popcorn and 2.5 million pounds of nuts are eaten during the game.
These are also great for school lunches, team meals & pre/during/post competitions!
Try these Popcorn Trail mix recipes:
Chunky Monkey, Coconut Macadamia Nut, Chocolate Berry, Cinnamon Sugar, Cranberry Almond, Parmesan and Black Pepper
Bonus Question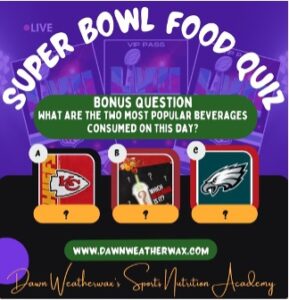 What are the two most popular beverages consumed on this day?
So, what did you guess?
The answers:
325.5 Million Gallons Of Beer Are Consumed
During Super Bowl weekend, football fans will drink about 325.5 million gallons of beer, equating to 50 million cases. Beer cases cost up to $10.8 billion and are enough liquid to fill an Olympic-sized pool almost 2,000 times. But not everyone drinks beer during the big game. People spend $2.37 million on soda, showing that soda is another popular Super Bowl beverage.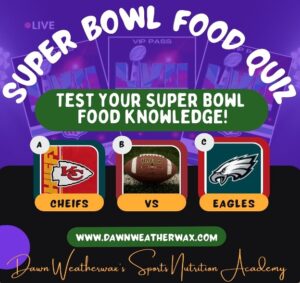 SUMMARY
So how did you do with the super bowl food quiz?
I hope you enjoyed! This can be a fun quiz to share with others and see what they answer!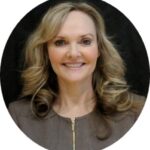 By Dawn Weatherwax, RD, LD, ATC, CSCS
Dawn Weatherwax (RD, LD, ATC, CSCS) is a registered/licensed dietitian with a specialty in sports nutrition and founder of Sports Nutrition 2Go and Dawn Weatherwax Sports Nutrition Academy. She has been working with swimmers for over 25 years and has launched a sports nutrition academy for athletes. She is also a board-certified specialist in sports dietetics, which is the premier professional sports nutrition credential in the United States. In addition, she is an athletic trainer with a certification in strength and conditioning from The National Strength and Conditioning Association.