This article was contributed by
Chris Summers
Broomfield High School, Broomfield, CO
Special Teams Coordinator & Offensive Coach
Email:  [email protected]
Twitter: @coach_csummers
Using Multiple PAT Formations To Keep Constant Pressure On The Opponent
As a staff and a program we take great pride in our Special Teams unit.  We have achieved total buy in from players due to doing some unconventional and fun things within our PAT unit.  Our mindset has been to make the other team to have carve out their practice time to make sure that they properly align to our formations.  One week we will use one formation, then the next week we may use a different one.
Our approach is that we want to take advantage of the lack of numbers to a side, leverage, or misalignment of the other team.  If we want to throw the bubble route we adopt a "key" word each week that will alert the PAT unit that we are going to throw the ball to one of our wings.  Then it is on our holder to make the proper read on either side that gives us the best opportunity to score.  The blocking scheme that we have adopted is mirrored on each side and is easy for the players to learn.  We don't spend a ton of time teaching it because of the simplicity and the knowledge that they have already learned from week to week.  Below are a few of our schemes that we use: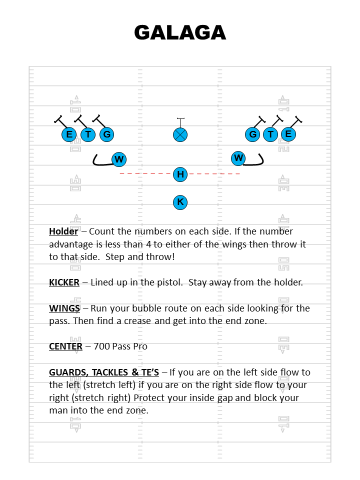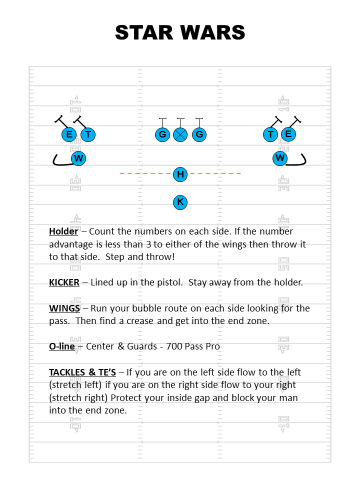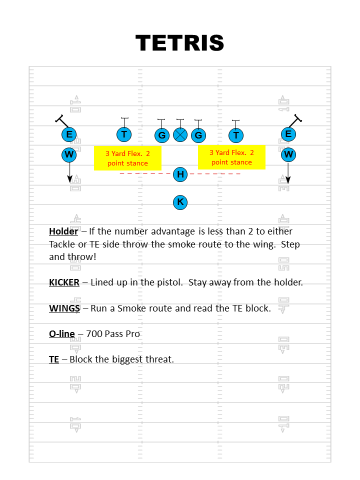 About Coach Summers :
An 18 year veteran going into his 19th year coaching high school football in Colorado.  Over his career he has been to the State Playoffs 10 times with 3 semi-final appearances and a state title runner-up in 2016.  And has also been a part of two league championships.  He is currently entering his 3rd year at Broomfield High School serving as an Offensive Coach & Special Teams Coordinator.
If you have any special teams questions:  [email protected]